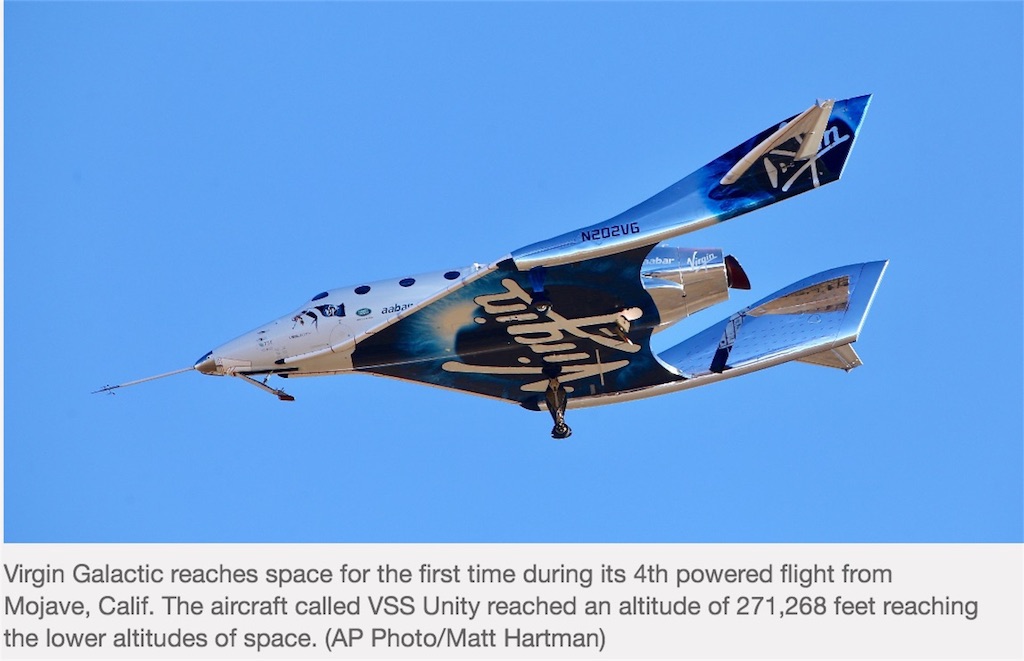 Virgin Galactic tourism rocket ship reaches space in test
Virgin Galactic社の観光用のSpaceshipがCalifornia州のMojave上空50miles(80km)の宇宙空間に乗り入れたと説明。
とうとう人類の宇宙観光期が始まるか?
MOJAVE, Calif. (AP) — Virgin Galactic's tourism spaceship climbed more than 50 miles high above California's Mojave Desert on Thursday, reaching for the first time what the company considers the boundary of space.
The rocket ship hit an altitude of 51 miles (82 kilometers) before beginning its gliding descent, said mission official Enrico Palermo. It landed on a runway minutes later.
"We made it to space!" Palermo exclaimed.
The supersonic flight takes Virgin Galactic closer to turning the long-delayed dream of commercial space tourism into reality. The company aims to take paying customers on the six-passenger rocket, which is about the size of an executive jet.
Virgin Galactic founder Richard Branson said there will be more test flights and if all goes well he will take a ride before the public gets its chance.